Is slimming possible without surgery? Yes! Is it a miracle? No. It is simply Coolsculpting® Elite, a slimming machine based on the cryolipolysis principle. In just a few weeks, your figure will be enhanced and reshaped.
What is Coolsculpting® Elite?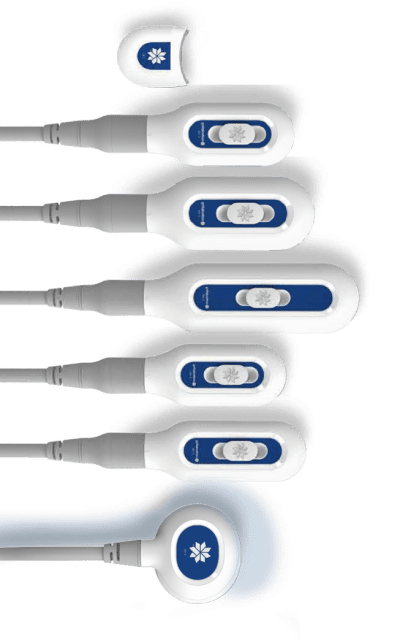 Coolsculpting® Elite is the latest cryolipolysis slimming and body contouring machine from Allergan® laboratories. It permanently destroys localized fat by using cold temperatures. Coolsculpting® Elite is a new technology but, above all, it is THE leading machine for slimming using cold temperatures.
This state-of-the-art machine is equipped with a powerful cooling system that is able to cool with two applicators simultaneously. Therefore, thanks to these two Coolsculpting® Elite applicators, two areas can now be treated at the same time.
With its Freeze detect® and Coolcontrol® sensors, the temperature delivered by the applicators is stabilized to ensure adequate cooling and maintain maximum safety throughout the entire treatment.
In three months, fat cells and stubborn fat are transformed and eliminated naturally by the body. This treatment is perfectly suitable for areas of localized fat.
At Lazeo, our medical team is committed to ensuring that your Coolsculpting® session is as pleasant as possible: you may watch a film on your iPad during treatment, listen to music, read that book you have never been able to finish… and leave happy.
In general, just one Coolsculpting® session is sufficient to achieve excellent results.
More than 8 million treatments worldwide
2 patented technologies to ensure patient safety: CoolControl® and Freeze Detect®
10 treated areas for a full body treatment
What happens at a Coolsculpting® session?
First, the doctor assesses eligibility for treatment during an initial consultation. Depending on your body shape, s/he will propose a treatment plan tailored to suit your needs.
Before starting the Coolsculpting® session, the doctor will apply a cold pad on the area to be treated to protect the skin, then one or two Coolsculpting® Elite applicators will be placed, combining the effects of suction and cold temperature in the area to be treated.
For a few minutes, the patient will feel mild discomfort caused by the suction as well as some tingling, but the area is numbed quickly thanks to the cold temperature. The temperature of the device then gradually drops and reaches -10°C, causing the total destruction of the targeted fat cells.
In the weeks following treatment, the body will eliminate the treated adipose cells naturally.
The advantages of Coolsculpting® Elite
It destroys fat cells permanently without any skin lesions or adverse effects. No scalpel, no anesthetic. CoolSculpting® Elite is a real alternative to liposuction, which is a surgical procedure.
Painless and does not require any anesthetic
No time away from social activities is required. After the session you can resume your activities normally.
The handpieces make it possible to redefine and reshape the body accurately according to your needs and wishes.
Non-invasive method that can be repeated any number of times.
With Coolsculpting® Elite, you can treat two areas simultaneously and therefore save time.
The areas treated with Coolsculpting® Elite
Saddlebags,
Arms,
Inner thighs,
Infragluteal folds,
Back fat, such as the bra bulge in women,
Love handles,
Stomach bulges, above and below the navel,
Double chin.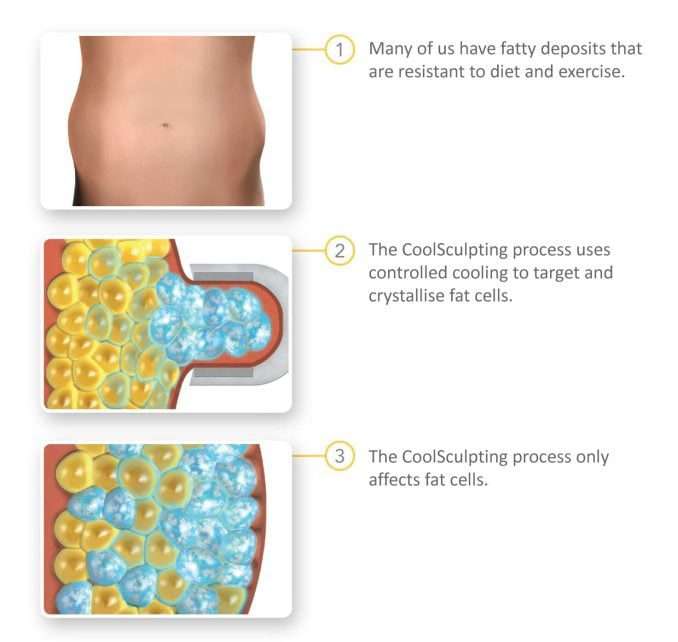 Safe slimming using cold temperatures
Coolsculpting®️ Elite relies on two patented technologies that fully guarantee patient safety.
CoolControl®️ ensures cooling at a required temperature. Then, sensors allow the temperature of the applicators to be adjusted to the skin temperature in real time, ensuring adequate cooling.
The FreezeDetect®️sensors are designed to reduce the risk of tissue damage. If there is a risk of freezing, the treatment stops.
Coolsculpting® Elite prices
Prices vary depending on the areas to be treated and on your treatment plan established during the first free consultation. Each person has a different body and shape.
Therefore, it is essential to have an initial consultation at Lazeo so that we can propose a treatment plan tailored to your needs. If you wish to treat several areas, we will guarantee reasonable and decreasing prices to reshape your body as you wish!
Coolsculpting® Elite is a complementary treatment for weight loss. However, it does not replace a healthy lifestyle and regular physical activity.
Treatments
Price / Session
4 CoolAdvantage applicators:
Duration of treatment 35 mins
€450 /applicator
5 CoolAdvantage applicators:
Duration of treatment 35 mins
€420 /applicator
6 or more CoolAdvantage applicators:
Duration of treatment 35 mins
€400 /applicator
Saddlebags:
Duration of treatment 1 hr 15 mins
€1,200
Coolmini double chin:
Duration of treatment 45 mins with 3 applicators
€1,500
Coolmini (other areas):
Duration of treatment 45 mins
€ 500 /applicator
Results after a Coolsculpting® Elite treatment
Please note!
CoolSculpting®, developed by Allergan® laboratories is a unique technology approved by the extremely strict FDA (Food and Drug administration), the highest US authority responsible for authorizing drugs and medical technologies on American soil.
Today, many companies in Asia or in Europe imitate this technology, however, these cheaper machines can be dangerous. At best, in fact, they operate at an excessively high temperature and are ineffective, and, at worst, these machines can burn the skin when the effects of the cold temperature are not controlled. This is how accidents have happened.
This is why we like to emphasize that there should be no confusion between cryolipolysis, the operating principle of slimming by using cold temperatures, and CoolSculpting® Elite, a machine developed by Allergan®.
Coolsculpting® media