Celebrities like Eva Longoria, Naomi Campbell, Katy Perry, and Justin Timberlake all proudly sport radiant, glowing faces. But how do they manage to achieve such a gorgeous glow? Could the secret be a dose of oxygen?
The oxygen or (O2) we breathe every day is a chemical element that the body needs to generate energy. A person must requires around 400 liters of oxygen to keep their body functioning naturally. If the bloodstream doesn't receive that minimum amount, the organs are vulnerable to damage.
The skin is one of the organs that require oxygen to regenerate. When the skin breathes and absorbs oxygen, a transformation process begins:
oxygen transforms into energy inside the mitochondria, where cells breathe, to
help produce what is known as collagen. This naturally occurring protein is what helps keep the skin supple.
What is Oxyface®?
Our facial treatment is designed to oxygenate, purify, brighten and reveal radiant skin. Oxyface® is an innovative procedure that uses oxygen projected inside a bubble. It produces 3,000 times more anions than any other natural environment.
Oxyface® can produce 90% pure O2, which allows the skin to regenerate cells more efficiently and fight against the signs of aging. Because Oxyface® produces so many anions, the skin is regenerated and the signs of aging are reduced.
It is more than a facial treatment, it is also an opportunity to relax and unwind!
Performed at our Lazeo centers by expert practitioners, Oxyface® provides patients with a replenishing experience in just 40 minutes.
What the treatment involves
Steps in the Oxyface treatment:
After thoroughly cleansing the skin, the practitioner begins with microneedling, which forms micro channels in the skin, helping it to absorb the products more efficiently.
A cocktail of mesotherapy combined with high-pressure oxygen is then sprayed onto the skin to nourish and hydrate it.
Next, a moisturizing mask is applied to the face.
The patient is then placed inside an oxygen bubble where countless anions are diffused. This process is designed to regenerate the cells. At the same time, Oxyface® diffuses various wavelengths of light to treat skin imperfections (acne, wrinkles, redness, etc.) using light therapy.
Benefits of light therapy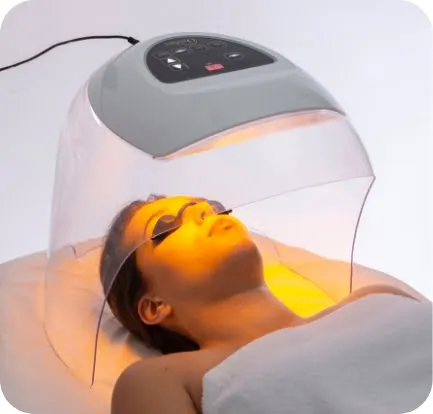 Each color corresponds to a concern to be treated:
Blue light sterilizes the skin surface and prevents infections, acne and scars.
Green light reduces skin discoloration concerns and takes action on blackheads.
Yellow light combats and reduces skin redness.
Red light improves healing and blood circulation.
With subsequent treatments, tension is released from the skin and its quality improves. The skin regenerates, which leads to collagen production. In turn, that collagen acts on the signs of aging: wrinkles and fine lines.
Spectacular results
Oxyface® brings immediate results.
With subsequent treatments, tension is released from the skin and its quality improves, redness fades, tissue is regenerated and blood vessels are stimulated. All this encourages collagen production, which in turn helps to reduce wrinkles and fine lines as well as skin spots.
For optimal results, we recommend one session every three weeks.
These treatments are like a breath of fresh air; reminiscent of the invigorating sensation when you feel after a trip to the mountains or a walk in the woods.
You feel rested, and your skin detoxified.
Contraindications
Pregnant or breastfeeding women
Skin conditions such as herpes, cold sores, eczema, psoriasis, etc.
Epilepsy and autoimmune disease
Prices for the signature Oxyface
| Sessions | Price per session | Price for 3 sessions | Price for 5 sessions |
| --- | --- | --- | --- |
| Oxyface | €160 | €450 | €700 |
| Hydrafacial x Oxyface | €280 | €780 | €1,200 |